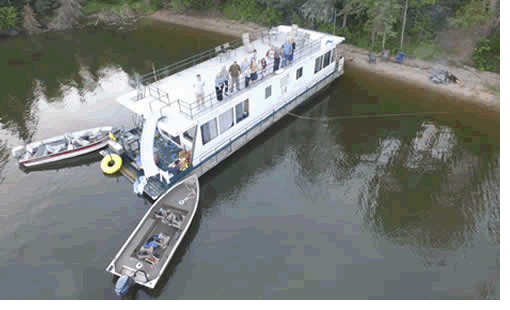 Relax aboard one of the many quality fully equipped houseboats Canada Houseboat Vacations Inc. has to offer. Couples, groups, families, honey moon, reunions, anniversaries, team building corporate outings, fishing, there are so many terrific reasons why you would want your own houseboat vacation on the lake of the woods.

Several boats to cater to your needs ranging from 52' to 65' in length! Including (4) 20' SUPER WIDE BODY HOUSEBOATS. Check out the photos on this site of all the fleet, the boats fantastic in size offering plenty of room, they are spotlessly clean and well maintained having just about everything you would want or need for an outstanding vacation. Lake of the Woods with its 65,000 miles of shoreline and over 14,000 islands is truly one of the most picturesque places on earth to relax and get away from it all! Eagles, deer, moose, elk loons and countless other birds and animals you'll see while cruising and relaxing along the shores.
Renowned for its fishing, Walleye, Muskie, Bass, Northern, Sauger, Crappie, Perch and Lake Trout are some of the sport fish to be caught. Truly a fisherman's paradise, moor in a secluded bay, put your feet up, relax and sip a long cool one aboard your Canada Houseboat Vacation. Your the captain and your port is what ever bay your crew and you desire. These boats are equipped with all the comforts that help to make this the best vacation you, your friends and family could ever want! All boats come standard with the latest GPS Navigational lake chart systems, with lake chip installed, make driving them around the lake as easy as driving down the highway!
Our family has been hosting families and groups for well over 68 years on this lake. You are our top priority, so if houseboating vacation sounds like something your considering there really is no other choice. Canada Houseboat Vacations is your Best answer to a fantastic holiday. Why chance a thing?
Call Toll Free 1-800-201-2100
Direct Phone 1-807-484-2448
Text Number 1-807-861-0100
info@canadahouseboatrentals.com
website hosted by Canadian Hosters / Northern Computer Solutions