Boat 6 is a 52' X 12' Houseboat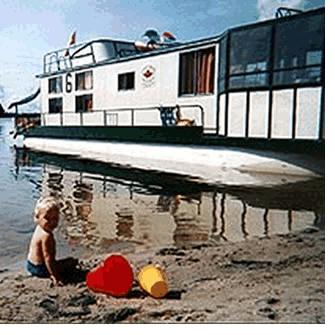 This two bedroom houseboat sleeps 6-8 people, features include on board freezer, fish cleaning station, live well for bait, swim platform and water slides, super quite electric start generator.

Newly renovated 2004 Inside & Out
2 Bedroom, 1 Bathroom
2 Double Beds
5 Single Beds
Sleeps 8
Screened In Front Porch

Freezer on board, Livewell Tank for Bait, Fish cleaning station, Water slide, ship to shore radio, electric start generator

2015 - Rateper boat includes tax, GPS navigational lake chart

system, insurance,generator, propane, pump out, 16' boat.

* We offer an advance full payment discount that will help save your group an additional 5% off the reg. houseboat rental rate. To receive this extra discount the entire houseboat fee for your rental must be paid in full within 6 days of your first booking your houseboat and prior to April 1st; of the year your houseboat is rented for!

* U.S. rates based on a 1.05% exchange rate

$600 Deposit to hold boat dates

Gas Usage
Fuel is extra, but you are charged only the gas used. Gas usage on houseboat motors is about 18 - 30 gallons per trip.

Taxes and Insurance
Included in houseboat rental prices with $1,000. deductable.
Boathouse 6 is a 52 by 12 foot luxary Boat. Click image for larger view

Internet special, book 4 nights get 5th night FREE (not included with other discounts)

Discount rate openning in May to 3rd. Sat. June

3 Nights $1,067.*U.S $1,120.*CND

4 Nights $1,400.*U.S

$1,470.*CND

7 Nights $1,734.* U.S.

$1,820.*CND

800-201-2100

Reg.rate start 3rd Sat. June to 2nd. Sat. Aug.

3 Nights $1,525.*U.S $1,600.*CND

4 Nights $2,000.*U.S

$2,100.*CND


7 Nights $2,477.* U.S.

$2,600.*CND

Avoid disapointment, reserve your vacation dates now!


Discount rate 2nd. Sat. Aug. to close of season

3 Nights $1,019.*U.S $1,280.*CND

4 Nights $1,600.*U.S

$1,680.*CND


7 Nights $1,980.* U.S.

$2,080.*CND




Call Toll Free 1-800-201-2100
Direct Phone 1-807-484-2448
info@canadahouseboatrentals.com

website hosted by Canadian Hosters / Northern Computer Solutions